One of our guilty pleasures, Confessions of a Shopaholic (2009) is on the list of the most fashionable movies.During filming, actress Isla Fisher wore five-inch stilettos, so the heels weren't too small, but not too tall either.The costume designer was Patricia Field, the one who also dressed the ladies from the tv show Sex and the City (1998-2004).Most of the clothes were bought from Japan,so Isla's character has a stylish and bold wardrobe that tought us not to be afraid of color.Another one of her lessons is: "If a man doesn't fit, you can't exchange him seven days later!"
"I chose this pink so she would stand out and framed her with people who were all in the same color." "That was my method throughout the whole movie. I wanted her to jump out." - Patricia Field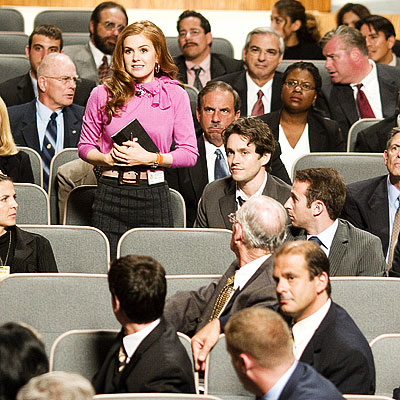 My favorite outfit from this movie is the white skirt and jacket from Vivienne Westwood matched with a green Louis Vuitton bustiere and a green and gold belt!
Vivienne Westwood white suit with a green Louis Vuitton bustiere
images via google