With Halloween approaching, i thought of sharing with you a list of some fashionable costumes that you could wear.Most of them can be improvised at home, so if you're creative enough you'll turn out looking great.Hope it helps!
One platinum blonde long wig ,a thight sexy silver dress, dark makeup and your Halloween costume is ready.Be sure to mentain a powerful attitude though !
Donatella Versace and a photo from the tv movie "House of Versace"
Jakie Kennedy
Every woman wonders what it's like to be a first lady and fortunately you can be close to this experience by dressing up like Jackie O.All you need is a skirt and a nice blazer, a very 60s hat and hairstyle.You may or may not put on some gloves, but a Mr.President on your arm is a must!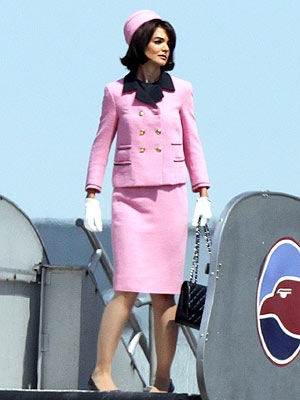 Jacqueline Kennedy
Morticia Addams
There is no one more dramatically stylish than Morticia who completely understands the elegance of a black dress (that's why she wears them all the time!).Don't forget to say something in french once in a while.You know how much Gomez loves it!
Anjelica Houston as Morticia Addams
Daenerys Targaryen
There is no one cooler than her at this moment and it's such a great idea for a costume.Sure, it would be great to have as company some dragons, but stick to what you have.
Daenerys Targaryen from Game of Thrones
Barbie
Moschino Spring/Summer 2015 fashion show was modeled by real life Barbies, so it's kind of the latest trend.You used to play with them, now you can get the chance to be one of them.
Moschino Spring/Summer 2015
Suit up and be a man!
Beyonce and Ciara wondered about how it would be like to be a boy and I bet you did too.Now is your chance to try it for one night.The cigar is a must have,of course.
Yves Saint Laurent
Frida Kahlo
The Dolce&Gabbana Spring/Summer 2015 fashion show reminded us of the exotic looks of Frida Kahlo.Add big flowers in you hair and you're ready to go!
Frida Kahlo
Dolce&Gabbana Spring/Summer 2015
images via google and pinterest