Turbans are the kind of headpieces that i wish i would see more on the red carpet, because the few times celebrities wore it they caught everyone's attention.It seems like the Met Gala is the event where turbans are present once in a while.
Kate Moss in Marc Jacobs and Marc himself at the Met Gala 2009
.It all started with the one from 2009 when supermodel Kate Moss wore a Marc Jacobs
g

old lamé dress with a turban made by Stephen Jones.I still sigh when i see it.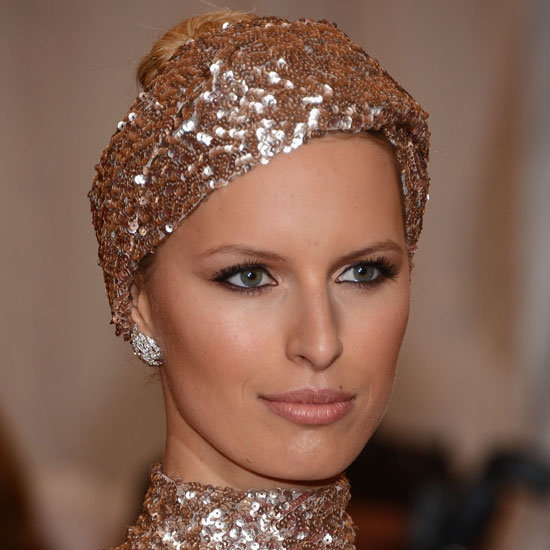 Karolina Kurkova in Rachel Zoe at Met Gala 2012
In 2012, another model continued this tradition by wearing a gold sequin Rachel Zoe dress accesorised with a gold turban.The look seems inspired by the one Kate wore before and even the back of the dress is similar.
Ralph Lauren Spring 2009
The 2009 spring/summer collection from Ralph Lauren is the perfect inspiration for every one of you who wishes to adopt this style.As you can see, a part of the outfits presented are all gold.If you feel like the all gold outfit is too much for you, than Eva Mendes and Chloe Chloe Sevigny have the perfect suggestions for you.
Eva Mendes in Dolce&Gabbana in 2012
In 2012, actress Eva Mendes looked so beautiful in this lace eembroidered Dolce&Gabbana cocktail dress with a matching black turban at the premiere of the movie "The Place Beyond the Pines".
Chloe Sevigny in Proenza Schouler at the 2013 Met Gala
Actress Chloe Sevigny was another one to wear a turban at the 2013 Met Gala, but this time she chose an all black outfit instead a gold one like the ones Kate and Karolina wore.Her dress was from Proenza Schouler.
Ralph Lauren Spring 2009
The Ralph Lauren Spring/Summer 2009 collection alo has all black outfits that are perfectly matched with black turbans.
images via style.com and pinterest