This weekend was crowded with events because both Bafta Awards and Grammys took place, so it was all about movies and music.If the Grammys were all about extravagant looks, the Bafta's red carpet was filled with more simple and elegant dresses.Let's take a look at what celebrities wore at the Bafta Awards:
Reese Witherspoon
Stella McCartney
Reese Witherspoon wore a Stella McCartney purple gown that showed her curves.I love the simplicity of the dress and how it fits Reese's body.
Amy Adams
Amy Adams was a stunner in this white custom made Lanvin gown with a metalic waist belt.She is one of those actresses who always looks good on the red carpet.
Julianne Moore
Julianne Moore seems to be the center of attention wherever she goes not only for her great acting skills ( she won a Bafta award), but also for her red carpet appearances.She wore a daring custom made gown by her friend Ton Ford.
Italian bombshell, Monica Bellucci, surprised everyone by not wearing Dolce&Gabbana as she usually does.She did wear black though, so she kept a certaing balance.The beautiful dress is by Alaia and i love to see the designer's creations on the red carpet.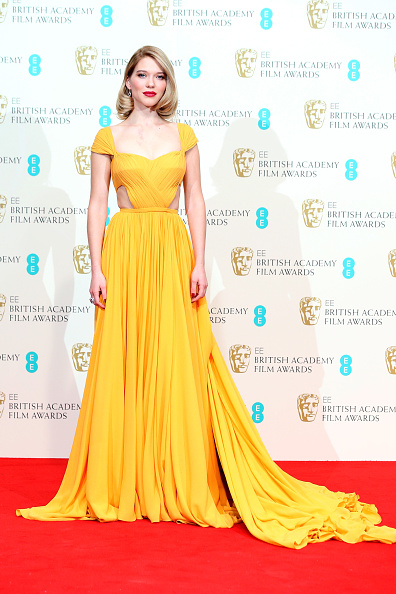 Lea Seydoux
Lea Seydoux wore a canary yellow Prada gown and brightened the red carpet.
Dianna Agron
Lanvin
Actress Dianna Agron also wore a Lanvin gown matched with blach shoes.Julianne Moore and her were both ladies in red.
Keira Knightley
Giambattista Valli Spring Haute Couture 2015
Keira Knightley was radiant in this dress from the 2015 spring haute couture collection by italian designer Giambattista Valli.
Laura Haddock
Laura Haddock had a princess moment in this stunning Ashi Studio gown.She looked like she popped out of a fairytale and i hope that when the clock stroke midnight the spell didn't break.
Rosamund Pike
Gone Girl star, Rosamund Pike, wore a gorgeous Roland Mouret black gown with just the right amount of jewelry.
images via google