The March issue of Elle Bazil features three models (Ana Beatriz Barros, Bruna Tenorio and Luma Grothe) on three different covers photographed by Bob Wolfenson.The reason why i chose to show you only the cover where Ana Beatriz Barros appears on is because i'm mesmerised by those glamorous jeans inspired from the 90s.So, i thought i should share with you some ideas for giving your own pair of jeans a fabulous "makeover".
Elle Brazil,March 2015
The jeans Anna is wearing look like they have several brooches attached on them, so if you own some it will take you just a few minutes to pin them to your jeans and make them cooler.You can even add some hair clips or anything else that can be easily pinned, because who will know?
H&M hair clip
Starfish Brooch from Style Hive
Accessorize Jewel Brooch
Avalaya pin brooch
These are just a few suggestions.Be sure to match them properly, so you can achieve that 90s look without overdoing it.Below is another idea of adding brooches to your jeans as presented by Dsquared.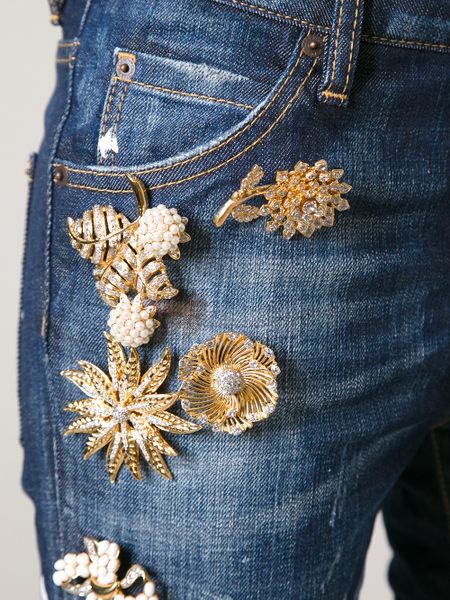 Dsquared2 Jeans
The most efficient and easy way is the brooch idea, but if you know how to sew then you have some others possibilities.Even if you don't know, you can always take them to a tailor or ask your mother/grandmother to do it for you.
J Brand x Christopher Kane Embellished Boyfriend Jeans
You have a lot of possibilites of embellishing your jeans.You can add pearls,crystals or anything you like.Either if you embellish them only on the knee area or on the entire surface, it's impossible not to have an amazing result.
Dolce&Gabbana Embellished Boyfriend jeans
Stella McCartney
image via bloginvoga, google,h&m and accessorize