Ah, The Met Gala!My favorite event of the year!This ceremony is as important for fashion as are the Oscars for the movie industry and all eyes are on the looks worn on the red carpet.This time, the institute celebrated the exhibition "China:Through the Looking Glass".


There are some celebrities that always steal the show like Beyonce, Kim Kardashian,Rihanna or Lady Gaga, so it's impossible to not start talking about them first.Their extravagant looks from last night are impossible to forget years from now.
Beyonce
Beyonce is known for always wearing Givenchy at The Met Gala and this time she was the center of attention with this see through gown made by Riccardo Tisci.Although the dress is such a masterpiece and looks so good on her, i personally feel like it's a little too much.It also reminds of another dress worn by her at The Met in 2012.The only difference is that this time she looks more naked than dressed.
Beyonce at The Met in 2012
Kim Kardashian
Kim Kardashian was the first one to wear a design made by Peter Dundas (Emilio Pucci's ex creative director) for Roberto Cavalli.The dress is pure art, but to be honest i am only having a deja-vu since it looks so much like the one worn by Beyonce in 2012.I am also tired of seeing such heavy embellishments on the red carpet.
Lady Gaga
Lady Gaga was majestic in a very chinese kind of way wearing this sensational Balenciaga gown.I loved the fact that she sticked to the Gala's theme.
Rihanna
There was a problem with Rihanna's Guo Pei gown.It was kind of hard to photograph all of it, since it had such a long train.Years ago she sang about Princess of China in duet with Coldplay and this time she actually got the chance to be one.
Jennifer Lopez
There is no secret that Jennifer Lopez always looks great on the red carpet.Her Chinese inspired gown was by Versace.Yes, i like her look but i also feel like it reminds me of other dresses by Zuhair Murad that she wore in the past months.
Kendall Jenner
Kendall Jenner looked stunning in an incredible Calvin Klein Collection gown.I have to admit that she is on my best dressed list and that i'm going to dream about her dress so many years from now.
You know that feeling when you fall completely in love at first sight with an outfit?This is what happened to me with Sienna Miller's red Thakoon suit.She is without doubt my best dressed from the 2015 Met Gala.Her look is simple, yet exquisite.
Naomi Campbell
Naomi Campbell was a Chinese mermaid (if that is even possible) in a beautiful Burberry gown.Is she on the best dressed list?I think so.
Kate Hudson
I love how Kate Hudson never fails to look so fabulous on the red carpet.Her gold Michael Kors gown was breathtaking and she also recieves extra points for the beautiful headpiece.
Carey Mulligan
Actress Carey Mulligan was one of the girls who wore Balenciaga last night.Her beautiful and classic black dress is from the Fall/Winter 2015 collection.
Zoe Kravitz
This rock'n'roll gal also looked beautiful in a Balenciaga gown.I always like Zoe's attitude on the red carpet.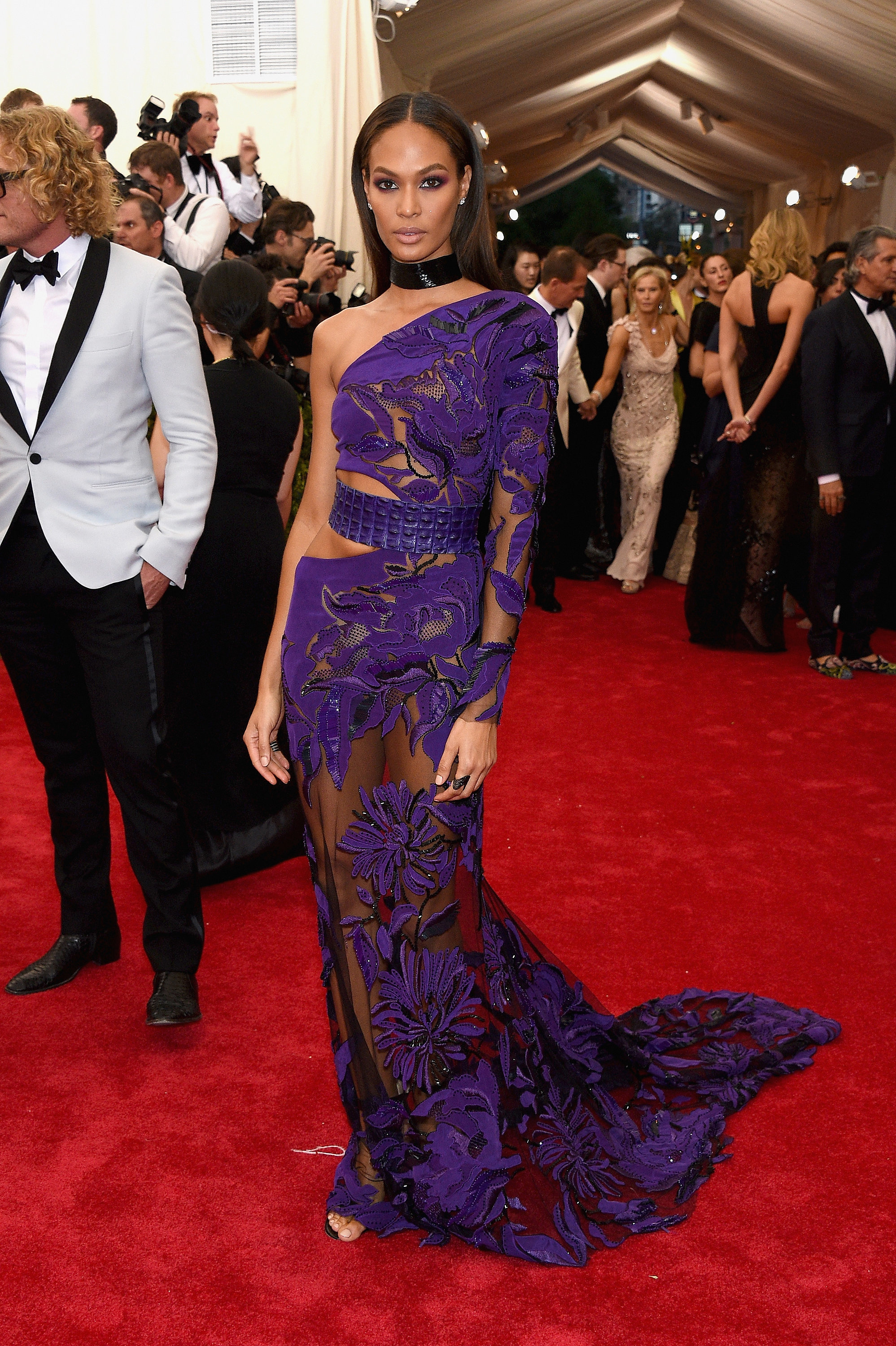 Joan Smalls
Kim Kardashian wasn't the only one to wear a dress by Peter Dundas for Roberto Cavalli last night.Model Joan Smalls was flawless in this purple gown.
Linda Evangelista
Supermodel Linda Evangelista carried her baby bump in such a fabulous Moschino red dress with a huge black bow.Loved it!
Jennifer Lawrence
Yes, Jennifer Lawrence wore Dior.Again.Her dress was simple and elegant, but i expected to see more than that.
Cara Delevingne
Cara Delevingne wore Stella McCartney this year also.Her black jumpsuit was so sexy and the Chinese inspired tattoo's brought her look closer to the Gala's theme.
Sofia Vergara wore a romantic dress made by Keren Craig and Georgina Chapman from Marchesa.It's impossible not to like her.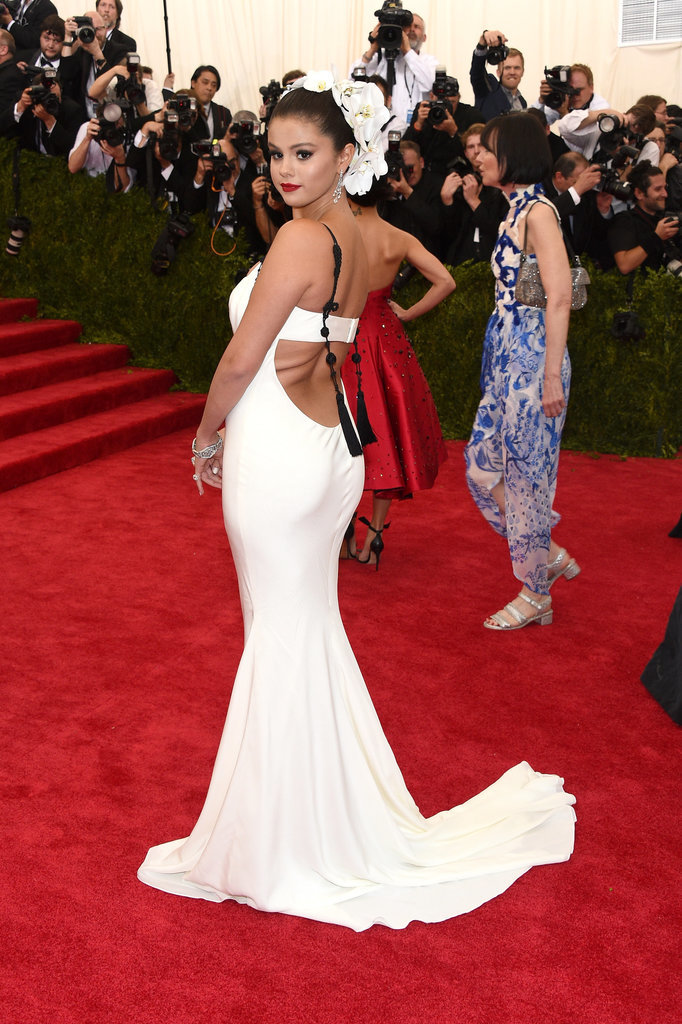 Selena Gomez
A white Vera Wang gown with black details was spotted on singer Selena Gomez.As much as i like the dress, i have to say that my favorite part of her look is the flower headpiece.
Alexa Chung
Model Alexa Chung looked lovely in an Erdem dress matched with blue shoes.
Maggie Gyllenhaal
Pretty is how Maggie Gyllenhaal looked in this Roland Mouret dress.
Kate Beckinsale
Kate Beckinsale stunned in a gold Diane von Furstenberg dress.But when doesn't she look good?
Rose Byrne
Rose Byrne was such a beauty in this Calvin Klein Collection dress.
Helen Mirren
Age is nothing but a number.And if you don't believe that, just look at how breathtaking Helen Mirren looks in that red Dolce&Gabbana dress.
Karen Elson
Tabitha Simmons
Brie Larson, Courtney Eaton and Annabelle Wallis
Also part of the Dolce&Gabbana team were Karen Elson, Tabitha Simmons, Brie Larson, Courtney Eaton and Annabelle Wallis who wore gown from the Haute Couture collection.Leave it to Stefano and Domenico to bring such royal looks on the red carpet.
Miley Cyrus
A punk inspired gown by Alexander Wang was Miley Cyrus' choice last night.I like the dress, but it's something that is just not working for me regarding her whole look.
Reese Witherspoon
Another lady in red was Reese Witherspoon in a Jason Wu dress.
Rita Ora
Singer Rita Ora chose a red Chinese inspired dress by Tom Ford and she looked so good in it!
Olivia Wilde
How adorable did actress Olivia Wilde look in this pink embellished Prada dress?I have to say that o love the matched gloves and headpiece.
Emily Blunt
Oh, how i loved Emily Blunt's Prada look!Chinese?Checked.Fabulous?Checked.
Karlie Kloss
Rosie Huntington-Whiteley
Irina Shayk
Uma Thurman
Caroline Trentini
Besides Jennifer Lopez, Uma Thurman, Irina Shayk, Karlie Kloss,Rosie Huntington-Whiteley and Caroline Trentini also wore gowns by Versace.I love their looks, but i expected to see something more glamorous on Uma Thurman.
Gigi Hadid
Gigi Hadid was such a babe in this red Diane von Furstenberg red dress.
Madonna
Katy Perry
Madonna and Katy Perry brought a little fun on the red carpet with their Moschino by Jeremy Scott gowns.
Julianne Moore

A black Givenchy dress was worn by the beautiful Julianne Moore.Can you believe she is 54?
Amal Clooney

A John Galliano dress for Maison Martin Margiela was seen on none other than Amal Clooney.Do you like it?
Karolina Kurkova

Model Karolina Kurkova stunned in a custom made Tommy Hilfiger dress and chic Giuseppe Zanotti sandals.
Emma Roberts
A green one shoulder Ralph Lauren gown was worn by Emma Roberts styled black sandals and a black clutch.
Hailee Steinfeld
Another Michael Kors dress was spotted on the red carpet on actress Hailee Steinfeld accessorised with a red clutch and gold bracelets.
Jessica Hart
Valentino didn't miss from the 2015 Met Gala either.Jessica Hart was such a beauty in that red gown.
Solange Knowles

A very interesting and creative dress by Giles Deacon was worn by Solange Knowles.It is a risky look, but i think that Solange managed to pull it off.
Jessica Chastain

As much as i love Jessica Chastain, i wasn't very enthusiastic about her Givenchy gown.I've seen this mermaid look on her before and now is hard to like it.
Kerry Washington
I loved the other Prada looks from last night, but this pink ballroom dress worn by Kerry Washington puts me in a dilemma.One thing i know for sure: i absolutely love the back of it!But i'm not so sure about the front of the dress and those green shoes.What do you think?
Kris Jenner
Kim Kardashian and Kendall Jenner weren't the only ones from the family to be invited to this event.Their mother, Kris Jenner, was also on the list and he wore a red Balmain gown.The dress is fabulous, but i feel like there is too much going on there.The large earrings and those shoes weren't the right choice.
Georgia May Jagger
I really liked Georgia May Jagger's Gucci dress.The combination of colors caught the attention and the headpiece was so stylish.
Emily Ratajkowski
Model Emily Ratajkowski wore such a pretty dress from Topshop.I am not sure about those shoes though.
Elizabeth Banks
Elizabeth Banks looked more like she's ready to go on a luxurious cruise with this blue dress by Michael Kors.Still love it though.
Allison Williams
There is always a big ballroom gown on the red carpet and Allison Williams was the one to wear it.The red dress is by Giambattista Valli Haute Couture.
Anne Hathaway
Anne Hathaway's Ralph Lauren gold gown was elegant and stunning and that hood reminds me of the vintage designs of Halston and Azzedine Alaia.
Chloe Sevigny
Chloe Sevigny's J.W.Anderson dress was very original and interesting.She gets points for not wearing an ordinary dress.
Amanda Seyfried
Amanda Seyfried's' Givenchy gown was a breath of fresh air since it was the only white one.
Keri Russel
On my best dressed list is also Kery Russel in this fabulous Altuzarra gown.
Lizzy Caplan
Such a pretty and elegant Donna Karan Atelier dress was worn by Lizzy Caplan.I love everything about her look.
Sarah Jessica Parker
Of course that Sarah Jessica Parker was also present at this gala.The dress she wore is a collaboration between her and H&M and the headpiece is by Phillip Treacy.
Diane Kruger
It's alway nice to see a great look that doesn't consist in a gown at a big event.Diane Kruger looked great as usual in a Chanel outfit.
Poppy Delevingne
The other Delevingne sister, Poppy, wore a red Marchesa gown.If Cara's look was more punk, Poppy's look is more romantic.
Gong Li
Gong Li wore a beautiful Roberto Cavalli gown matched with blue earrings.
Wendy Murdoch
A beautiful blue Oscar de la Renta gown with gold details was seen on Wendy Murdoch.
Bee Shaffer
Another looked good enough fot the best dressed list was this superb Alexander McQueen gown worn by Bee Shaffer.
Anna Wintour
Anna Wintour glowed last night in this orange Chanel dress.
Rachel Weisz
The beautiful Rachel Weisz also wore a Chanel dress from the 2013 Haute Couture collection.
Claire Danes
Claire Danes was beautiful in a dark green Valentino dress with a black waist belt.
Imoogen Poots
Sophie Turner
Wondering who that is?Does Game of Thrones ring a bell?Sophie Turner aka Sansa Stark looked breathtaking wearing a Burberry silver gown.
Fan Bing Bing
The look of Chinese actress Fan Bing Bing was a hit on the red carpet last night.Her custom made dress is by Christopher Bu.
images via vogue.com and google